'Susan and the young doctor had a most…unusual…courtship.' Boggel senses the tension in Gertruida's voice. She is obviously struggling to keep her tone level. 'At first it was the health of old CJ. Then the vision and illness of old Andries. And then, the cruellest cut of them all: the forced removal to Khorixas, far in the north of  South West Africa. This sequence of tragic events was almost too much for the fragile constitution of the frail Susan Bothma.'
***
CJ was the first to require the good doctor's attentions. It was in the spring of 1965 and the veld was particularly beautiful that year. However, the war-injuries had taken their toll on his body. Over the period of a few years, he had become more and more tired. The loss of Francina just made maters worse. It was as if CJ simply didn't want to live any longer. Susan drove to Upington to ask help. Herman Viljee immediately agreed to accompany her back into the wilderness of the Kalahari. His examination revealed a major problem.
'It's progressive kidney failure, Susan.' The news was bad, but hearing him say her name, caused a shy smile. 'I suspect it was the trauma of that landmine. So much muscle damage may overload the kidneys and cause irreparable damage. His arm improved, but that was a nerve injury. In his case, the kidney situation will keep on progressing. There isn't much we can do.'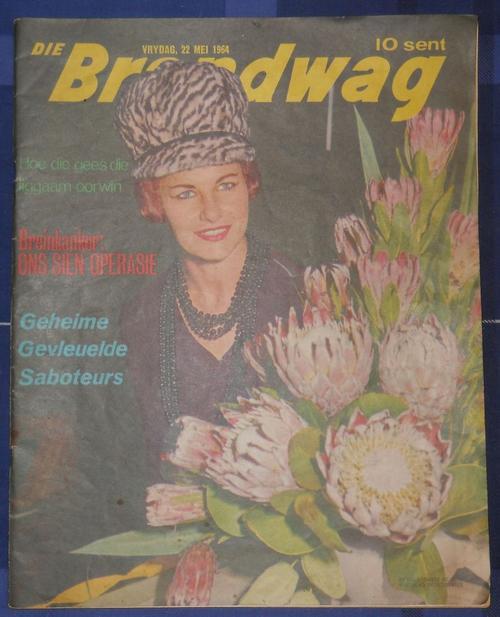 'But..but what about this new thing? They transfer…er, transplant a kidney into a sick person. I read that in Die Brandwag. Can't it be done for him…?'
'Ai, Susan, I wish. But you're right, the medical world is abuzz with the possibility of organ transplantation. I hear Doctor Myburg is leading a team of specialists in Johannesburg and it's quite possible that they'll do the first kidney transplant on the continent within the next year.
'But, Susan, that'd be too late. Your father is too ill, anyway.'
***
'And so it was.' Gertruida swallows hard. 'CJ passed way quietly one morning before Christmas that year.  He was buried, as he had wished, in the burial ground outside the village. Herman had become a regular visitor at that stage and supported Susan right through CJ's final days.
'Then, it was Andries's turn.'
***
Andries woke up one morning and directly went to the house CJ had built in the village. The year was 1972 and year-long conscription had become compulsory for all white South African males over the age of 18. Very often this meant that, before a teenager was allowed to vote, drink or drive a vehicle, he was licensed to shoot to kill another human being. At this stage Andries was a stooped, almost bald and toothless old man, but his mind was as sharp as ever. He didn't knock; he simply went in and sat down at the kitchen table. Susan was mildly surprised at his sudden appearance, but offered him a mug of coffee, nevertheless.
'Thank you, Miss Susan.' As poilite as ever, he waited for an invitation to speak. Susan understood this and asked him how he was.
'I'm too old to move, Miss, just too old. I'll never make it.'
'Too old? Move? What are you talking about, Andries? We're going nowhere.'
'I had a dream, Miss. A terrible dream. I saw flames and heard screams. I saw men in uniform pushing us into lorries. I saw men pleading and children crying. I saw women throwing themselves in front of bulldozers. And I saw that it didn't help. We were loaded in to cattle trucks and a train took us away, far, far away; away from our ground and our goats and cattle and houses. Then I saw our huts burning. Your house, this very room, became a place where soldiers stayed.'
Susan shook her head. 'Ag, come on, Andries? You think the army will come and throw us out? This is Riemvasmaak, man! This is as far from civilisation you can be. Why would the army want to be here?'
'Guns, Miss. Guns and canons and bombs. Nothing will be left.' For the first time since she got to know Andries, Susan saw the old man crying helpless tears.
'They're taking us to a place in hell, Miss Susan. There's nothing there. Nothing.' He wiped away the tears with an angry hand. 'I'm too old for this, Miss. I'm too old. My seasons are done. It is time..'
To be continued…
Bob Dylan, born as Robert Allen Zimmerman
(Dylan wrote the song when he was 20. This is what he told Sing Out magazine in 1962:
" There ain't much I can say about this song, except the answer is blowin' in the wind. It ain't no book or movie or TV show or discussion group, man. It's in the wind … I still say it's in the wind and just like a restless piece of paper it's got to come down some … But the only trouble is that no one picks up the answer when it comes down so not too many people get to see and know … and then it flies away.")